Everyday is a winding road
I get a little bit closer
Everyday is a faded sign
I get a little bit closer to feeling fine
-Sheryl Crow
Will you stay in a pediatric hospital this year?
Hopefully, your child never ever needs hospitalization. But it can happen. It's possible that 6 million families will land in a pediatric hospital this year. The average stay is almost four days!
The average stay is almost four days.
The reason is usually non-life-threatening. A respiratory infection. Soon, you're in a big institutional hospital with a lot of moving parts. It can feel overwhelming.
Doctors are responsible for your child's medical care. but there are other factors, some that influence that care. How smoothly the experience goes will depend somewhat on you. Sounds strange, doesn't it. But it's a good thing, as well.
Reading about it won't cause it!
Most of us are strangers to the hospital. We want it that way! The only downside is when we need the hospital. We don't know the first thing about it.
Perhaps we're a bit superstitious. If we read up on the hospital, we'll end up in one. It probably doesn't work that way.
We need to investigate certain situations for our kids' sake. The hospital should be one of those things. Maybe there hasn't been a resource for you to count on. Consider this blog post a resource. You'll learn all about the pediatric hospital here.
Get our FREE hospital packing guide
Why go to the pediatric hospital unprepared? We've created a cheat sheet for savvy parents. Get the free guide here.
10 tips on what to bring
what NOT to bring
convenient Amazon shopping list included
Our free guide will help you get through your hospital stay. Download it here.
How I earned my stripes
A parent doesn't decide to become an expert on the pediatric hospital. You find yourself in one, a lot. You begin to take notes. Then, you see a certain pattern. The more you know, the more enjoyable your stay will be. And the faster you can go home.
In the first half of 2017, I was in the pediatric hospital for 55 days. My infant son, Percy, needed frequent hospitalizations. This hospital time was broken up into several visits. Still, it added up to 30% of the first six months. A lot of time.
The more you know, the more enjoyable your stay will be.
I'm not a medical expert. But what I learned in those 55 days, I want to share with other parents. Depending on the problem your child has, you could find yourself in different parts of the hospital. With different missions, staff, and goals.
Knowing what to do, and what to expect, can make a big difference.
The blessing of first-world hospital care
My son Percy is alive because he was born in a U.S. hospital. Percy has Trisomy-21. In Percy's case, it meant being born with structural defects that affect fewer than 25% of children with T21. Percy needed surgery at three days old.
In the U.S., it's almost routine. In developing countries, infant surgeries are not routine. We were told, Percy wouldn't have survived past birth in a large part of the world.
We couldn't pay them enough.
A hospital is an important place to us. Even factoring in the cost of healthcare for special-needs children, we're beyond grateful. We receive the attention of skilled doctors and nurses who care beyond a paycheck. We couldn't pay them enough.
If anyone can share how to enjoy a hospital stay, it's probably us.
Happiness in a pediatric hospital?!
Surely you're thinking, a pediatric hospital is depressing! It's not an enjoyable place, at least after your child is born.
There are many serious reasons to go to the pediatric hospital. In no way do we suggest you find happiness in a life-threatening situation. Some do, through their faith and inner conviction, but it's not what this post is about.
We're talking to parents who face routine hospital stays. The reasons include everything from corrective surgery, to a respiratory virus, to a skin condition. The problem isn't often life-threatening. It's brought under control but it takes time. Parents find themselves sitting in a hospital room for days. They wonder, when can we leave? How do we get out of here?
Time to get involved.
Advocating for your child
It's easy to make this mistake: to see the pediatric hospital like an airline. You and your child board the plane. It takes you to Wellville. You get off and thank the pilot.
It's easy to make this mistake: to see the pediatric hospital like an airline.
It's not like that in a hospital. This can be a surprise. Doctors and nurses don't want parents to be spectators or passengers. The pediatric hospital wants a partner. The hospital staff wants you thinking right along with the professionals and being involved.
There may be options for your child getting well. Doctors and nurses weigh them every moment. As a parent, you should do the same. They know medicine. You know your child. Together, you can choose the best, possibly fastest, treatment.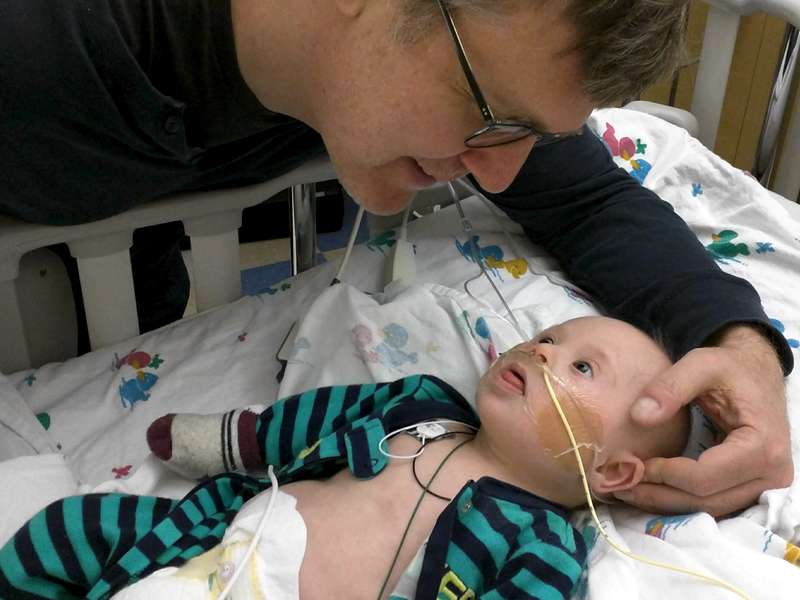 How pitching in can help
"These doctors make the big bucks. They're experts. Why do I have to get involved?"
I asked myself that question. When you land in a pediatric hospital, you're stuck there until your child gets better. Sitting in a hospital room, you're busy managing your personal life via cell phone. But you learn, it helps you to help the doctors and nurses.
bq [i]t helps you to help the doctors and nurses.
You're not offering life-saving tips, of course. But you notice, the hospital works in shifts. You have a different doctor and nurse every time you turn around. You happen to be the only person who's always the same! It makes you valuable to the process.
Won't things get done without your help? Sure. At a good hospital, you aren't absolutely necessary. But this post is about enjoying your hospital stay. And, you will enjoy it more if you get involved and help things to run smoothly.
The case of the missing milk
The best pediatric hospitals don't need parents helping out, right?
Of course, that's not correct. Good institutions can make small mistakes. One time, my wife sent a box of breast milk overnight delivery. The box was lost inside the hospital the following day. By the time it was located, some of the milk was spoiled.
The box was lost inside the hospital the following day.
I had asked the morning nurse to keep an eye out for it. After the shift change, I asked the afternoon nurse as well. If I hadn't gotten involved, the entire box of milk might have been unusable. If I had taken the attitude "it's their job,' my son would've had to settle for formula instead of mother's milk.
In the hospital's defense, the box of milk was packed using regular ice. Had dry ice been used, the milk would've been fresher when found.
Understanding (& managing) expectations
Get your child well. And get out as fast as possible. They're the twin goals of every parent in a pediatric hospital.
It's what the hospital wants as well. Only, getting to that point is complicated.
Why is your child there? Which part of the pediatric hospital does that condition place you? What is expected of the parent in that pediatric wing? What does discharge from the hospital look like?
What does discharge from the hospital look like?
A big hospital is made up of different wings. Each has its own goals and expectations. When you grasp the pieces of a larger puzzle, you'll enjoy your stay better. You'll know what it means to get your child well. And to get out fast.
Wings of a pediatric hospital
Neonatal Intensive Care Unit
The NICU wing is the first stop for newborn babies with major health issues. Our son Percy was sent here within 20 minutes after birth.
The NICU is known as the wing for preemies. Babies with Down syndrome are sent here, as well. In addition, Percy was diagnosed with a heart and stomach problem. The stomach issue would require immediate surgery.
Babies in the NICU stay for a couple of weeks up to one year. We were here 35 days.
Environment:
The NICU is a serious place. Nurse to patient ratio is very low, say, one nurse for every two or three babies. To start, our Percy was in an isolation room. he had a nurse with just one other baby to care for.
What this meant, the nurse did everything for our baby. Percy was fed and cared for 24/7. Like the name says, it's intensive care. Which meant some restrictions, as well. For example, there was a limit for two visitors at a time. Hand washing was also mandatory. Cell phones were stored in plastic baggies.
Parents weren't allowed to stay the night here. There were 24-hour visiting privileges for parents, however. All of this helped us to leave for the night knowing that our son would be OK.
Expectations:
We found no expectations on us at all. Doctors and nurses were equipped to handle the care for our infant. As Percy progressed physically, we were allowed to take over some child care duties. Change. Feed. Spend hours holding him and being his parents. If we weren't there, these duties would be provided for. Both nurses and volunteers were available. Which meant, staffing in the NICU was solid. They had time for specialized care.
Emotions:
It can be a traumatic time. We knew in advance that Percy would have health issues after delivery. Still, it didn't make it any easier to go through a critical care situation. We saw our three-day-old baby on a ventilator.
A silver lining, we met parents in the NICU like ourselves. These parents had given birth not to preemies but to special-needs kids. In every case, their babies faced greater obstacles than ours did. It was uplifting to see the parents embrace their children. They knew in advance they were having a special-needs child. It didn't matter to them.
Pediatric Intensive Care Unit
Environment:
If your child needs surgery, the PICU is where he or she will recover. At least, usually. My son Percy had stomach surgery at three days old and was returned to the NICU. It sounded like a judgment call for the doctors.
Just a few days ago, Elijah had a feeding valve inserted into his abdomen. He recovered in the PICU. In many ways, PICU and NICU are similar in mission. Both units take care of at-risk children. The PICU accepts children of all ages. The NICU is for infants only. The PICU is where children recover to be sent to the general pediatric floor. NICU infants are, generally, directly discharged after getting well enough.
One major change from the NICU—I was able to sleep in the PICU beside my son. In this way, it's similar to the general pediatric floor.
Expectations:
Like in the NICU, my son received comprehensive care from the PICU nurse. The nurse-patient ratio in the PICU is one to two. Nurses are trained to watch for complications from surgery. Children are coming off of anesthetic. They're being given pain medication. The nurse's focus on my child was uninterrupted as he recovered from his procedure.
I wasn't required to stay the night. Our nurse was prepared to give all the care my child could need. I ended up staying as I had planned to. We were from out-of-town. Facing a longer stay, actually being given the option to sleep elsewhere is appreciated.
Emotions:
It's a wait-and-see feeling in the PICU. How will your child recover? I was already told, the procedure he went through was a success. The hospital provided excellent communication from the operating room. I'd been given an old-school pager which the nurse used to give me updates during surgery. By the time I got to the PICU, I was pretty encouraged. I could've been a lot tenser.
The PICU nurse was on top of every detail. Had there been a complication, I was confident it would've been quickly addressed.
General Pediatric Floor
Environment:
This wing is what most of us think of as "the hospital." The floor is expansive, active, and full of people. Patient rooms are larger. The NICU-PICU feels cloistered—like a library—compared to the bustling general Pediatric floor.
Children are sent to the general floor from the PICU for further evaluation. It's the next step toward being released from the hospital. It's also common for patients to be admitted directly to the Pediatric floor from outside the hospital.
My son had been admitted to the general pediatric floor three times. Often, he had the following symptoms:
Not drawing enough oxygen on his own
Levels were too low
Not holding down food
Throwing up ten times a day
Coughed too much
Seemed to have pneumonia
Underweight for an extended period
I've been told that a normal stay on the general pediatric floor is anywhere from 2-14 days. Two times, we were admitted for respiratory problems and reflux. We stayed six days each, as we waited for respiratory symptoms to decrease.
a normal stay on the general pediatric floor is anywhere from 2-14 days
If your child is sick, being here can be a relief. It's good to have your child under professional observation. At the same time, it can be a lot of waiting. Your child's condition may not be life-threatening; serious, but manageable. Slow improvement was the way for us.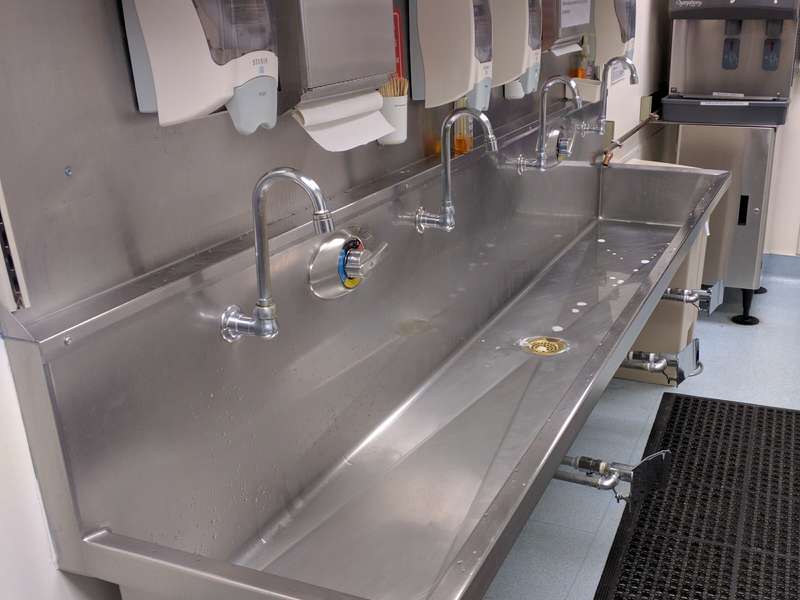 On the general floor, your child's room becomes your new home. You're asked by nurses to stay with your child, 24/7, as a chaperone. Finding a shower and a decent meal becomes an issue. I blew through $25/day in the hospital cafeteria. Bring some snacks with you.
Expectations:
For parents with experience in the NICU/PICU, the pediatric floor is a big change. There are fewer nurses. It means parents are asked to pitch in. The hospital encourages, (maybe even pressures) a parent to be "on duty" most of the time.
bq Fewer nurses … means parents are asked to pitch in.
You'll be required to stay in the room with your child. If it's an infant, you're requested to feed during your waking hours.
In many cases, it isn't a problem. A mother will often breastfeed. Also, a hospital stay is a rarity for most families. Being away from home for a few days isn't a hardship.
My case broke the mold for the general pediatric floor. I had been in the hospital a lot and was tired of filling in for round-the-clock care. My son needed to be bottle-fed every three hours. The nursing staff wasn't equipped to help me, in all cases. At every shift change, I'd have to negotiate with the nurse over my unique situation. It worked out a lot of the time, but not always. Sometimes there was friction.
The nursing staff wasn't equipped to help me, in all cases.
One thing I learned about the general floor—there are policies, but no hard-fast rules. Child care duties can be negotiated with the nurse on duty. On the one hand, you're paying a lot of money for your child to be there. And yet, the hospital requires a nurse to cover many other rooms as well. A result, you can't expect too much help for being so far away from home. It's where the institutional side of the hospital shows.
Emotions: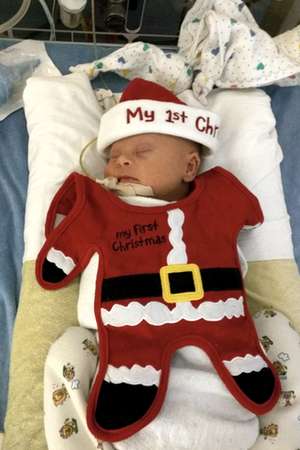 The general floor felt more like a routine hospital visit. It wasn't as stressful as intensive care. There can be some stress. Working closely with a number of different nurses can get confusing after a while. The routine can get boring.
If your child is admitted for respiratory issues, you will be quarantined as well. This means you must stay in your room (not wander the halls for any reason). You're also sleeping there every night. It can feel like hospital jail, no question.
Nurses in a pediatric hospital
You choose a hospital for the doctors. You end up working more with its nurses.
Nurses have a tough job being given different patients each day. Being responsible for care. Enduring long shifts and high expectations. As a parent, I have much respect for this profession.
Parents have a tough job, too. We're responsible for understanding what doctors are doing. We're asked to agree to complex decisions regarding care. We have to stay awake and informed during long days in a small room. We may have to put our kids first, and ourselves, against the hospital's wishes at times.
I've worked with 40 nurses over the last six months. There are different kinds for different jobs. All nurses gave quality care. Some of it was simply different.
NICU/PICU
The skillset of nurses is higher in these units. Nurses must meet greater criteria of care. There's no wasted time. There's no forgetting anything. If a parent asks a question, you'll get a friendly answer every time. The nurse always thinks ahead to what's next.
General floor
Nurses are very skilled here, as well. They're well-versed about the ins-out of the day. Some are younger, some older. Some work one day per week. Most are full-time.
You'll find many different nursing styles from buttoned-up to a bit more forgetful of exact details. Not over something critical like medicine. Possibly over getting back to you on a question you asked. Every nurse is doing her or his best. It takes patience as a parent. Especially when you realize, nurses on the general floor are caring for several other rooms at the same time.
You'll find many different nursing styles.
In rare instances, there may be a conflict. It's best, I've found, to clear it up. Whether with the nurse or charge nurse (supervisor). Your child's care is the entire reason you're there. If there's an issue, you're better off addressing it than to quietly hope for the best. Your hospital will very likely accommodate your concern. Hospital rooms are too small to let unspoken conflict go on for too long.
Enjoyment through engagement
You have the ability to enjoy a pediatric hospital stay if you engage it.
The pediatric hospital is like jury duty. Your life is suddenly put on hold. It's tempting to wait out your stay, reluctantly. But if you work with the process, you'll get done more quickly. It takes being an advocate for your child's care. And at times, for yourself.
It takes being an advocate for your child's care. And at times, for yourself.
For example, you might ask for help with the next diaper change. You might be on an important phone call. You may ask for time away from the room for an errand or a mental break. When you engage, you'll feel a bit more in control.
A hospital may have a patient advocate on staff. You may want to speak with that person, to take advantage of every resource. The more you know about the hospital experience, the better you'll be at it. Your stay will go more smoothly. You might even leave quicker. All of these things will be enjoyable.
Leave a comment below
Many parents have a pediatric hospital story, more than you'd think. Would you share yours with our readers? Or if you've never been, what questions might you have?
This post first appeared at The Joyful Father.
All photos © Eugene Havens