Kyle Bain is wildly popular with kids who have heard his music. Surprisingly, parents are often bigger fans. If parents could somehow pay all of Kyle's expenses, put him in a room, and get him to write an album's worth of material per month, we would sign up for that.
For all of the positive reception he receives, Kyle Bain is undiscovered. Learning he exists is a challenge, a needle in an internet haystack. Parents only discover Kyle in the most random way. Kyle was featured on a children's YouTube channel that blew up five years ago. He got noticed for singing a charming song about an excavator. Then the channel dropped him.
You can still run across this YouTube channel and notice him in an old video. But, Kyle performed under a stage name. Even if you love the music, fans don't know his real name.
He's not a children's musician. He's a musician who writes for kids.
If you're not a parent, surely you're thinking, "what a lot of trouble." Heck, no! Parents won't let a little confusion stop them. They've heard these amazing songs. It's actual music!
A parent knows the value of that. Kyle Bain makes kid's music that doesn't make you want to stick a fork into your head. Instead, you sing along. Kyle's songs are melodic like the Beatles, wordy like vintage Elvis Costello, and old-school educational like Mister Rogers.
Seriously, if Britt Daniel of the indie band Spoon decided to write a kid's album, it would be half as good as Kyle's new album Hello, Friends.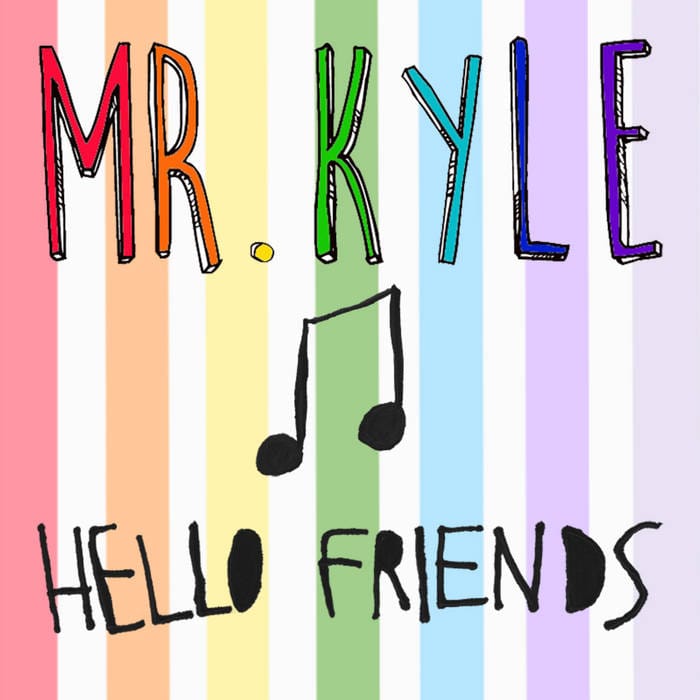 How do parents go from a YouTube video to Hello, Friends? They hit the search engines, hard. You can go on Twitter and read stories of parents who feverishly Google Kyle's true identity.
"Just spent way more time than I care to admit. [H]ow did I go down this rabbit hole?"

Twitter user @myster
Around here, we get it. We did the same thing.
Bad children's music is a hazard of being a good parent. You play it in the car, or at home, entirely for them. There's nothing about most kids' music for adults. It speaks to them on their level, not ours.
Our kids request the same music every day. They never get tired of it. "Wheels on the Bus" and "Baby Shark" are on heavy rotation. It's why Kyle Bain drives nice parents to become internet stalkers. He's not a children's musician. He's a musician who writes for kids.
We Googled Kyle's stage name and discovered his real name. His new children's album is on Bandcamp. We were overjoyed … and disappointed. There was only one album! We'd take it.
Kyle Bain drives nice parents to become internet stalkers.
Hello, Friends is a fuller, more accomplished sound than Kyle's earlier songs on YouTube. (We won't say the name of the channel that dropped Kyle. As parents, we find it to be a dumpster fire of aggressive marketing and dubious educational value. Kyle rounded it out.)
Kyle Bain now records children's music as Mr. Kyle. It's a step in the right direction for getting discovered. (Go to Bandcamp, not Soundcloud. There's a different Mr. Kyle there. In some ways, Kyle Bain can't catch a break.)
On Hello, Friends, Mr. Kyle tackles the kid subjects we've come to expect. It isn't a bad thing. Kyle reinvents these topics with enthusiasm. There's a song about counting, music, and trying new foods. He sings about how he loves pets. He encourages kids to play outside.
Most kids' albums stop there. Kyle goes further. His standout songs introduce young kids to abstract concepts.
This song's all about repetition
Can you do all the repetitions

"Repetition"
A call and response song, "Repetition" presents the idea with a Dr. Seuss-like whimsy. We've seen our kids think about this big word repetition. Our three-year-old now sings along.
We both see the world through our eyes
And listen with our ears on the sides
And both our heads have brains inside
Thinking 'bout how much we're alike

"Similarities"
An important opportunity for children's music is education. One of Kyle's catchiest songs is "Similarities." It's a duet with his sister Emily Johnson. Kyle uses small examples from a kid's world to encourage children to work together, to embrace each other's value.
I like singing 'bout things that are silly
They make me giggle like an itty bitty kitty
But kitties don't giggle, not even in the city
It doesn't have to make sense because it's silly

"The Silly Song"
An opus of creativity, "The Silly Song" stands out for its writing. "Have you ever tried french-fried shampoo?" There are more great lines in this one song than in most children's books.
Parents know, music like Kyle Bain's is worth searching out. Burned-out parents also understand, we need Kyle. Maybe even more than he needs us.
This post first appeared at Insomnia at Noon.